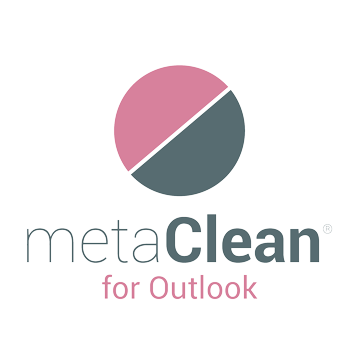 MetaClean for Outlook

Plugin for Outlook and Outlook 365 installed on desktop computers, allows you to delete, add or modify metadata automatically in the documents of email attachments before they are sent out of the Company.
It includes some data loss prevention functionalities (DLP) to prevent critical and confidential information from leaving the organization.
Integration with Microsoft Outlook 97, 2003, 2007, 2010, 2013, 2016, 2019 and Outlook 365.
It works automatically without the intervention of the user, before sending the email it processes the hidden data and the metadata of the documents in the attached files.
It has a graphical interface to configure:

the file type to procesed .docx, .pdf, .jpg, …
the requeried action: delete,add or modify metadata.

Deploying MetaClean for Outlook MSI on multiple machines by using Group Policy.
It allows to create white lists by domains or email addresses. The metadata of documents in attachments of these lists will not be modified by MetaClean.
Centralized management of metadata policies.
Supports ZIP files: compressed documents will be treated by MetaClean.
Delete hidden data such as: Printer routes, history of documents changes, etc.
Download MetaClean for Outlook trial version, no registration required.
The Trial version of MetaClean for Outlook has the following Limitations:
You can only to process up to 50 files.
The following metadata is added to each processed file: Developed by MetaClean (www.adarsus.com) -Trial License-.
You can only to process a maximum of 3 files at a time.
The professional version eliminates all these limitations.