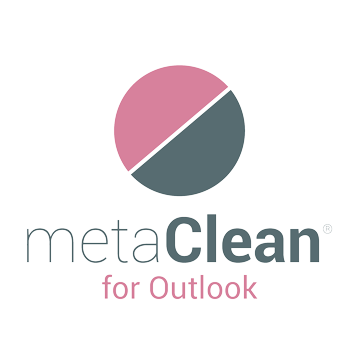 MetaClean for Outlook
Plugin for Outlook and Microsoft 365 installed on desktop computers, allows you to delete, add or modify metadata automatically in the documents of email attachments before they are sent out of the Company.
Now also available the new AddIn MetaClean for Outlook for Mac OS X and Windows platforms, compatible with all versions of Outlook (including Outlook Web). You can install this AddIn from Microsoft App Store (free for personal use).
MetaClean for Outlook removes metadata (hidden data and personal information) in email attachments preventing the leakage of confidential information that occurs continuously in this type of communication and avoiding possible economic and reputational damages derived from the malicious use of metadata.
Compatibility Information: Microsoft Outlook 97, 2003, 2007, 2010, 2013, 2016, 2019 and Microsoft 365.
Available for all versions of Outlook desktop on Windows, Mac OS X and Outlook on the Web (OWA).
Managing tracked-revisions and comments, including detecting tracked revisions and comments, and accepting tracked revisions and delete all comments.
Detection of Microsoft Word files with Change Control enabled and Comments: Ability to accept all changes and delete all comments in the document automatically.
It works automatically without the intervention of the user, before sending the email it processes the hidden data and the metadata of the documents in the attached files.
Graphical user interface to configure:

Type of file to process: .docx, ods, .pdf, .jpg, etc.
Metadata policy: Delete all metadata or custom metadata template.

The Plugin MetaClean for Outlook can be deployed on multiple machines via GPO (MSI installer).
Allows to create white lists by domains or email addresses. The metadata of documents in attachments of these lists will not be modified by MetaClean.
Centralized management of metadata policies.
Supports ZIP and 7Z files: compressed documents will be processed by MetaClean.
Deletes hidden data such as: Printer routes, history of documents changes, etc.
Includes data loss prevention functionalities (DLP) to prevent critical and confidential information from leaving the organization.
Download MetaClean for Outlook trial version, no registration required.
The Trial version of MetaClean for Outlook has the following Limitations:
You can only to process up to 50 files.
The following metadata is added to each processed file: Developed by MetaClean (www.adarsus.com) -Trial License-.
You can only to process a maximum of 3 files at a time.
The professional version eliminates all these limitations.