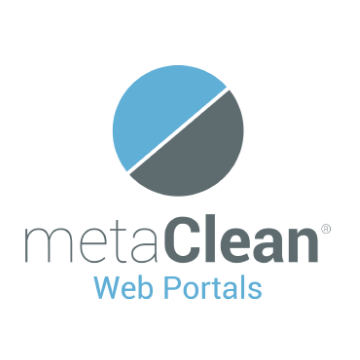 MetaClean Web Portals
MetaClean Web Portals automatically deletes metadata of files published in web servers.
When users browse their websites and consult any of the published documents, MetaClean for Web Portals will automatically delete the metadata from the files consulted or downloaded by the user, avoiding leakage of confidential information that may end up turning into potential and high security risks for your business.
Automatic detection of documents processed by MetaClean: MetaClean Web Portals will detect if MetaClean processed a document since the last time a user requested it and, therefore, will determine if a document requires the deletion, addition or modification of its metadata or can be sent directly to the user, this functionality optimizes the use of web server resources, as well as a considerable reduction in response times.
MetaClean for web portals can be run as a scheduled task to remove all metadata from web server files.
Automatically deletes metadata from documents published on websites or web portals.
Creation of metadata templates to eliminate, add or modify standard or customized metadata to facilitate the modification of metadata in the documents.
Continuous protection in real time against leaks of confidential information through metadata without user intervention.
The number of files processed by MetaClean Command Line is limited to a maximum of 50,000 files per year, if it is required to process a larger volume please request a quote.
Compatible with cloud storage: Google Drive, OneDrive, etc.