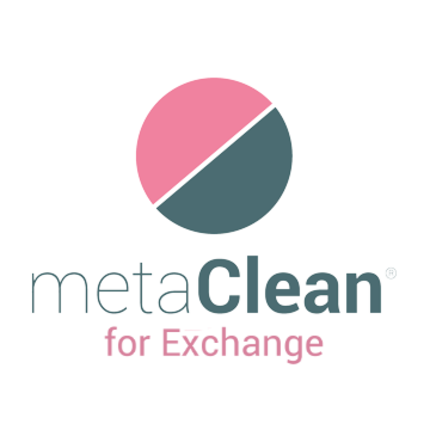 MetaClean for Exchange
From 1€ for user per year
For Microsoft Exchange Servers.
MetaClean for Exchange allows you to delete, add or modify metadata automatically in the documents of email attachments sent by the entire organization, preventing the leakage of confidential information that occurs continuously in this type of communications and avoiding possible financial and reputation damages. derived from the malicious use of metadata.
Allows the centralized management of metadata policies for attachments in emails. MetaClean for Exchange implements some Data Loss Prevention (DLP) functionalities, avoiding in its case that an attached file is sent if a specific metadata tag is found among its metadata. Implementa funcionalidades Data Loss Prevention (DLP) evitando en su caso que un fichero adjunto sea enviado si entre sus metadatos se encuentra un metadato específico..
Creation of metadata templates to eliminate, add or modify standard or customized metadata to facilitate the modification of metadata in the documents attached to the emails.
Compatible with all versions of Microsoft Office, Open / Libre Office, PDF and image, audio and video files. Even if the files are compressed (ZIP, 7Z).
It allows to create white lists by domains or email addresses. The metadata of documents in attachments of these lists will not be modified by MetaClean.
Since MetaClean for Microsoft exchange is configured on the server, the metadata and hidden information of the attached documents will be processed independently of the email client used on desktop, web or mobile devices.
Centralized management of the metadata policies.
Easy installation and configuration, does not require additional software on the desktop computers of the end users.
Compatible with Microsoft Exchange 2007, 2010, 2013, 2016 and 2019.
MetaClean for Exchange supports hybrid deployments of Office 365 and local Exchange, with centralized mail transport enabled.
Logs files: the program collects diagnostic data that can be analyzed if an issue occurs during the mail flow process.
Exchange 2013 with Mailbox role.
Exchange 2007 and 2010 with Hub Transport role.
.NET 4.0 is required on the Exchange 2013/2016/2019 servers, .NET 3.5 SP1 is required on the Exchange 2007/2010 servers.