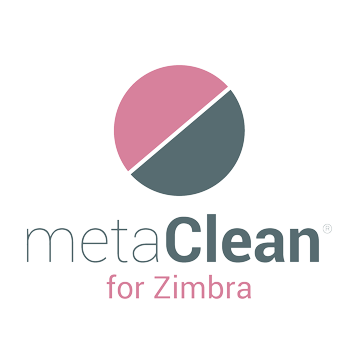 MetaClean for Zimbra
MetaClean for Zimbra is a Zimlet-based solution developed for Zimbra mail servers. It allows you to delete, add or modify metadata automatically in the documents of the attachments sent by email, providing security in this type of communications and protection against future attacks of Phishing, since it prevents the exfiltration of information through the metadata, which are commonly used in this type of cyber-attacks.
Implement some Data Loss Prevention (DLP) functionalities to prevent confidential and critical information from leaving the organization.
Efficient use of server resources: the process of deleting, adding or modifying the metadata of the documents attached to the emails is executed only when the files are attached to the email, freeing resources at the end of the process.
Allows you to configure metadata modification in PDF with signature. The protection of the signed PDFs can be activated so that MetaClean does not modify the metadata and the signature is invalidated.
Auto Reminder When Forgetting Attachments In Messages: For example, you enter the text of "please check attachments", "view attachments", etc. in your message body, but do not insert attachments in the Attachment field. When clicking the Send button, a warning dialog box will pop out to say that you may have forgotten to attach a file.
Creation of metadata templates to eliminate, add or modify standard or customized metadata to facilitate the modification of metadata in the documents attached to the emails.
It allows to create white lists by domains or email addresses. The metadata of documents in attachments of these lists will not be modified by MetaClean.
Centralized management of metadata policies.
Easy installation and configuration, does not require additional software on the desktop computers of the end users.
Logs files: the program collects diagnostic data that can be analyzed if an issue occurs during the mail flow process.