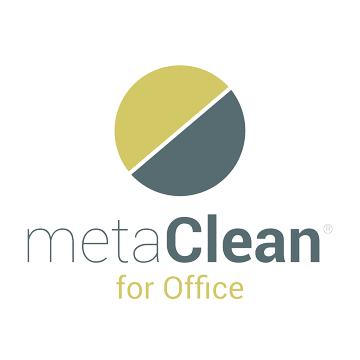 MetaClean for Office
Component built in as plug-in for Microsoft Office for the automatic processing of metadata: add, delete or modify the metadata of the document.
With MetaClean for Office it is guaranteed that any document generated from Word, Excel or PowerPoint will not contain personal or confidential information in the metadata, avoiding possible financial and reputation damages derived from the malicious use of the metadata.
Efficient use of computer resources: the process of deleting, adding or modifying the metadata of the documents is executed only when the document is saved, freeing resources at the end of the process.
Support of documents stored in local, network and cloud drives.
Compatible with Libre Office or other applications supported by Microsoft Office, MetaClean for Office will process the document of these versions if it is edited with Microsoft Office.
Bulk deployment of MetaClean through Active Directory policies.
Creation of metadata templates to eliminate, add or modify standard or customized metadata to facilitate the modification of metadata in the documents.
Continuous protection in real time against leaks of confidential information through metadata without user intervention.
The number of files processed by MetaClean Command Line is limited to a maximum of 50,000 files per year, if it is required to process a larger volume please request a quote.
Compatible with cloud storage: Google Drive, OneDrive, etc.